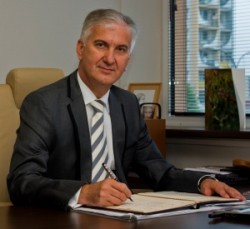 Antoni Czyżyk

Director of the "Centrum Spotkań Europejskich "Światowid" w Elblągu" (photo: Krzysztof Kosecki)

At ŚWIATOWID for 30 years, a long-time activist of the "Jantar" Association and President of the Federation of Sports Dance. The first standard dance formation LOTOS-Jantar, created by him, won the title of Polish Champion nineteen times, in 1999 and 2010 - the title of World Champion of Standard Formations, and in 2005 and 2011 - Vice Champion. Antoni Czyżyk, due to his skills in raising funds from the European Union, is the initiator and coordinator of many projects of a cross-border character, such as the International Dance Festival Baltic Cup, Bridges and Baltic Confrontations of Children and Youth. Thanks to his efficiency in acquiring funds for investment projects, the Elbląg center has been successively modernized and adapted to meet the cultural needs of the city's inhabitants more and more. In 2006 he received a "Gentleman of the Year" statuette and thus became a member of the elite group of the Pomeranian Gentlemen's Club. In November 2012 he was awarded the GOLDEN CROSS OF MERIT by the President of the Republic of Poland Bronisław Komorowski, and in 2014 he received the bronze badge for Merit for Sport awarded by the Minister of Sport and Tourism. This distinction was awarded for a lifetime of sporting and coaching activities. In October 2017, Antoni Czyżyk received the Bronze Medal "Meritorious for Culture Gloria Artis" awarded by the Ministry of Culture and National Heritage for his cultural activities. In February 2018, he was awarded the title "Icon of Warmia and Mazury".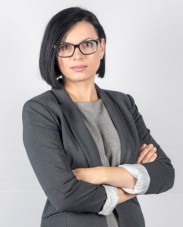 Magdalena Czarnocka-Kaptur

Deputy Director of the Centrum Spotkań Europejskich "Światowid" w Elblągu (photo: Krzysztof Kosecki)

Specialist in raising funds outside the budget, the originator and implementer of many cultural initiatives. Constantly busy, she spends her free time mostly... working! She is also active in the "Jantar" Association, of which she is president. Critical towards others, but also herself, demanding and uncompromising, she can find herself in any situation. She is the type of person about whom we say "the right person in the right place". In 2015, she received the award of the Marshal of the Warmian-Masurian Voivodeship for achievements in the field of artistic creation, dissemination and protection of cultural assets. In October 2017 she received the badge "Meritorious for Polish Culture" awarded by the Ministry of Culture and National Heritage.




Justyna Rucińska

Office worker (photo: Edyta Machul)

She appeared in the secretariat and immediately found herself in "our reality" - probably because as a graduate of managerial economics she has no problems with making the right decisions. She analyzes the situation, including the atmosphere at work and the boss's attitude ;), with a smile and her usual precision. However, she is not like a robot, on the contrary! She is a woman of flesh and blood and muscles, active, fond of people and shopping, as well as a good book and film. And despite the fact that - as she says - everything must be buttoned up the last button, sometimes she would like to be an incurable easy-going individual. Which she carefully hides at her workstation.




Marta Derlukiewicz-Kogut

project and regional education specialist (photo: priv.)

Graduate of ethnology at Nicolaus Copernicus University in Torun - she graduated with an A. In CSE "Światowid" since 2013. Author of projects, mainly educational, in which she supports children and youth, but also parents and teachers through activities in the field of culture.
In her free time she likes to... tinker at home!




Hanna Laska –Kleinszmidt

Head of Regional Digitization Lab (photo: priv.)

She graduated from the Gdańsk University of Technology in the fields of economics and mechanics. Professionally, for several years she has been associated with marketing, particularly promotion and public relations. A supporter of minimalism in many aspects of life.




Natalia Piotrowska

Manager of Światowid Cinema (photo: Edyta Machul)

Master of Polish Philology at the University of Gdansk. She has worked at the Światowid CSE since September 2006, and since December 2009 as the manager of the Światowid cinema. She is interested in the culture of various nationalities, and she reaches it through a good book, an exceptional film and extraordinary journeys.;)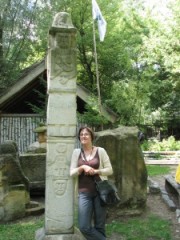 Monika Denisiuk

Manager of Organizational and Legal Department (photo: priv.)

Polish philologist by education. She has completed post-graduate studies in Public Relations (Higher School of Banking in Poznań) and Human Resources Management (Gdańsk University of Technology). In the years 2003-2006 she was the head of the Public Relations Department, and since 2006 she has been in charge of the Organizational and Legal Department. Since 2006 she has been the Director's Plenipotentiary for Public Procurement. Privately a wife (husband Jarosław) and mother of two children - Jakub and Kasia. She has a Persian cat, Basia. She likes to read and cook. She is an ardent sports fan, especially of volleyball, athletics and soccer.




Aleksandra Bednarczuk

Manager of the Social Activity Center (photo: Edyta Machul)

She comes from the Bydgoszcz area. As a child, participating in various events, she was jealous of those who were close to the stage. In 2002 fate directed her to Elbląg and Światowid, where her childhood dreams came true. From the very beginning she has been involved in the organization of events, together with the band she organises concerts, cabarets and festivals for the citizens of Elbląg. Privately, the mother of Oliwka, together with whom they now dream of a house with a garden. In 2017, during the jubilee of the 55th anniversary of Światowid, she received the Badge of Honour for Services to the Province of Warmia and Mazury.




Violetta Staniszewska

Sales and Marketing Manager (photo: priv.)

At "Światowid" for 30 years. Initially as an instructor in the Department of Cultural Centres and Clubs, then in the Department of Event Organisation, over the years she has organised many artistic and sports events. Currently she is in charge of Sales and Marketing Department. Her passion is sport and tourism. Privately - Monika's mother.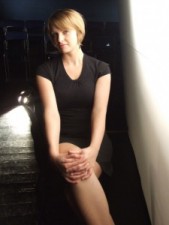 Edyta Bugowska

Specialist for dissemination of cultural heritage of the region (currently on maternity leave) (photo: Edyta Machul)

Graduated in history and political science from Nicolaus Copernicus University in Toruń. Loves stories - both real and imaginary (preferably fantasy with a lot of action and humor). - Addiction: Books - favorite movies: Lord of the Rings, Braveheart, Sweeney Todd- favorite books: rather favorite authors: fantasy - Pilipuk, Piekara, Wójtowicz; detective stories - Marinina, Baniewicz; fiction: Redlinski, Chekhov and many others:-)- passions: apart from books? Traveling - near and once in a while - far; physical activity - whatever comes to mind - swimming pool, gym, Aikido?- favorite quote: (this is the whole song) "Na pewnego Polaka" - Patrz, Kościuszko, na nas z nieba! - raz Polak skandował popatrzył nań Kościuszko, i się zwymiotował. Konstanty Ildefons Gałczyński (1934).




Paweł Kondraciuk

Coordinator of the Regional Digitalization Lab (photo: priv.)

A computer engineer by education. He graduated from the State Higher Vocational School in Elbląg. He has been working in "Światowid" since 2010, currently in Regional Digitalization Lab. Interested in 3D graphics, motorization, technical innovations and film.




Tomasz Misiuk

Senior Film Material and Digitization Specialist (photo: priv.)

In the editorial team of www.eswiatowid.pl since December 2009, before that he worked for TVP Olsztyn and Telewizja Elbląska. A cinematographer and TV and film producer, he perfected his skills at the Łódź Film School, Faculty of Cinematography, majoring in TV production. He inherited his passions from his father - Czesław Misiuk, a photographer and sportsman from Elbląg - and just like him, he was a player, later coach and judge of judo. Privately a husband of Ola and father of Zosia and Mikołaj.

We thank everyone who has worked with us. Your commitment and creativity have enriched our institution. We wish you all the fulfillment of your dreams, perseverance in realizing your next plans, professional and personal success.